A Family Business
Guests gather for an event at the first hotel the Drury family opened. The first hotel was in southern Missouri in 1973, and now the family has built, owns and operates more than 150 hotels in 25 states.
100% Family Owned & Operated
My father and uncles built the first Drury Inn with one goal in mind – to provide our guests with clean rooms, friendly service and honest value. More than 40 years later, the goal remains the same for our family-owned and operated hotel chain. That's why recognition by J.D. Power as "
Highest in Guest Satisfaction among Upper Midscale Hotel Chains
" means so much. On behalf of our extended Drury family of more than 5,000 team members, I would like to offer my sincere thanks to you for sharing this honor with us.
We truly appreciate your business and will work hard to continue to earn your loyalty.

Chuck Drury
President & CEO
Our History
Quality. Value. Consistency. These principles have guided Drury Hotels since 1973, when the Drury brothers opened the first Drury-brand hotel in Sikeston, Missouri.
The Drury brothers grew up in Kelso, a small town in the boot heel of Missouri. Learning from their hard-working and dedicated father, Lambert, they started by doing local ornamental and plastering work. First some tile jobs, then some small construction jobs. They always focused on quality, service, innovation and value.
Their work ethic and determination made their reputation grow – which, in turn, helped turn a venture into a business, and they began working on service stations, churches ... and then hotels. Since then, the Drury family has created a hotel system known for customer service and satisfaction – from a simple friendly smile, to free hot breakfast, to free hot food and cold beverages at the 5:30 Kickback®, to free Wi-Fi throughout the hotel – the Drury brothers learned to give their guests more than expected. The Extras Aren't Extra®.
From a few Drury brothers in the boot heel of Missouri to a company with more than 150 hotels in 25 states, Drury Hotels takes great pride in welcoming our guests just like we do our own family.
Our Brands
Our primary brand is Drury Inn & Suites, which offers our guests a choice of standard or king deluxe rooms, as well as two-room suites. And when we say two rooms, we mean it – our two-room suites are able to be divided into two separate areas. Other Drury brands include Drury Inn, Drury Plaza and Pear Tree Inn by Drury.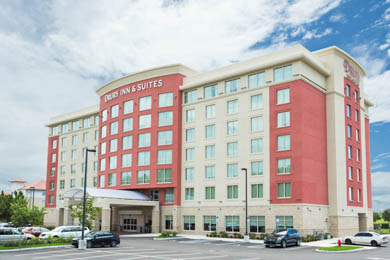 Providing exceptional value for business or leisure travelers, Drury Inn and Drury Inn & Suites all provide the same free extras – free Wi-Fi, free hot breakfast, free 5:30 Kickback® and more.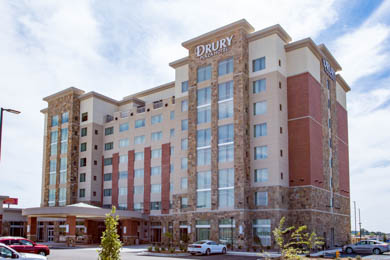 An upscale environment with enhanced meeting space and on-site dining, Drury Plaza Hotels offer two-room suites and deluxe guest rooms.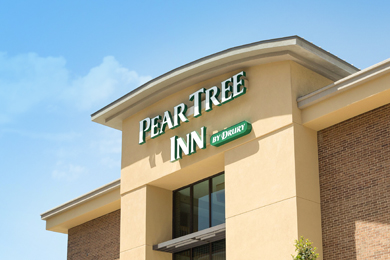 Pear Tree Inn is our brand for the price-conscious traveler. Every Pear Tree Inn is owned and operated by Drury Hotels – so all guests will receive similar amenities and the same friendly service.
Our Extras
Drury Hotels has represented quality, value and consistency since 1973. Because our hotels are family-owned and operated, we take great pride in welcoming guests just like we do our own family.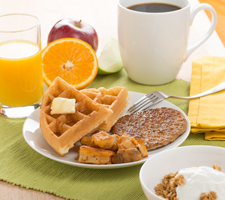 Free Hot Breakfast
Our free breakfast of scrambled eggs, oatmeal, fresh fruit, make-your-own Belgian waffles, potatoes, sausage, pastries, bagels, KELSO+BROS
®
coffee and more will set you up for a day of excellence. Breakfast is served from 6-9:30 a.m. Monday-Friday and from 7-10 a.m. Saturday and Sunday.
Enjoy fresh pancakes instead of Belgian waffles at some Drury Plaza Hotels. Pear Tree Inn breakfasts will vary.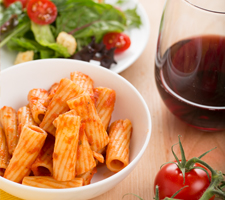 Evening Drinks and Snacks
Relax and recharge with us in the afternoon. Hotel guests may enjoy a variety of snacks — like salads, soups and more — and cold beverages from 5:30 to 7 p.m. at the 5:30 Kickback®.
See an example Kickback menu and plan your next visit today!
Hot evening food is not available at Pear Tree Inns. Service of alcohol is subject to state and local law. Alcoholic beverages are not complimentary and require a nominal charge at Drury Hotels in Kentucky. A maximum of two alcoholic beverages are served per guest at Drury Hotels in North Carolina due to state and local laws. The first alcoholic beverage is complimentary and up to two additional drinks may be purchased for $0.75 each at Drury Hotels in Pittsburgh, PA.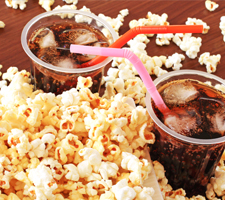 Free Soda and Popcorn
Break time! Grab free soda and popcorn in the lobby every day at Drury Inn & Suites, Drury Inns and Drury Plaza Hotels.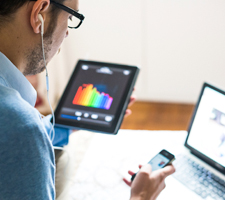 Free Wi-Fi Throughout the Hotel
Get the score, check your social networks or email family members from anywhere in the hotel — for free!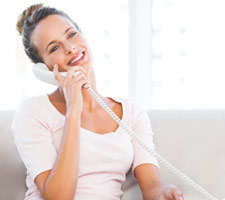 Free Long Distance and Local Calls
Talk is not only cheap — it's free for local calls and 60 minutes of domestic long distance calls per room, per night. Or, take advantage of 15 minutes free long distance to Canada and Mexico!
No rollover minutes to subsequent nights or future stays. Additional minutes over 60 minutes per night will be billed at 5¢ per minute. Includes calls placed anywhere in the 50 United States, including Alaska and Hawaii. Calls to the District of Columbia are also included. Excludes all other international, 900, information or operator-assisted calls. Offer subject to change.
On-Site Facilities
Take advantage of the business center, fitness center or pool while you're away from home. Print your boarding pass, finish a presentation or check email in our business centers. Stay fit in our fitness centers or swim a few laps in our pools.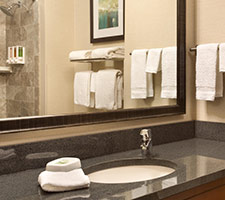 Refreshing Bath Amenities
At every one of our 150+ hotel locations, our bath amenities will leave you feeling energized, refreshed and ready to start your day. Our extra-gentle shampoo and hydrating conditioning duo leaves hair feeling soft, clean and conditioned. Our fresh, foaming body cleanser gently cleans while nourishing the skin.
Our Values
Our guests are our first priority – their comfort and their experience. Bottom line, we want them to have a wonderful stay and return. That's why we take so much care in the building of our hotels. We choose our locations based on where we believe our guests would benefit – and we create ways to give back to the area – whether it's with community involvement, being "green" or transforming older buildings into top-notch hotels.
Historic Renovations
When we choose locations for new hotels, we often help communities by restoring older buildings to create top-notch hotels. We currently have renovated 10 historic buildings. Learn more about our historic renovations below.
Green Initiatives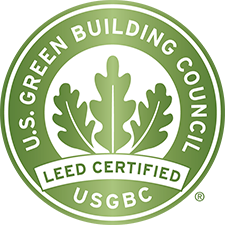 From the design and construction of our hotels, to the amenities inside of our hotels, we strive to innovate from the building up. Small efforts like our shower amenity dispensers help by not adding to our landfills. Our towel program helps decrease water consumption; and our recycled key program helps by not creating more plastic waste.
Our largest initiatives are our LEED® Certified hotels. We are proud to be one of the first hotels to seek LEED certification, and we are proud that Drury Inn & Suites Flagstaff is the first LEED® Certified hotel in Arizona. As we continue to grow, we continue to pursue energy-saving design and LEED construction. Additional brochures outlining all energy-efficient strategies are available at our LEED® Certified hotels.
Our Awards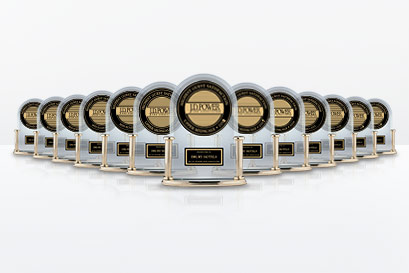 J.D. Power 2018 North America Hotel Guest Satisfaction Index Study SM
Drury Hotels is the only hotel to receive 13 consecutive J.D. Power Awards. Study is based on responses from 55,000 guests who stayed in a hotel May 2017-May 2018.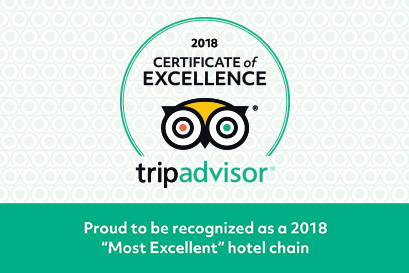 2018 "Most Excellent" Hotel Chain
TripAdvisor recognized Drury Hotels as a Global "Most Excellent" Medium Hotel Chain. The "Most Excellent" hotel chains were determined based on the highest percentage of Certificate of Excellence recipients. 119 Drury Hotels received the 2018 TripAdvisor® Certificate of Excellence. Now in its eighth year, the achievement celebrates businesses that earned great traveler reviews on TripAdvisor over the past year. 97.5% of eligible Drury Hotels received the 2018 Certificate of Excellence. TripAdvisor also recognized 90 Drury Hotels with the Hall of Fame honoring properties that received a Certificate of Excellence five years in a row (2014-2018).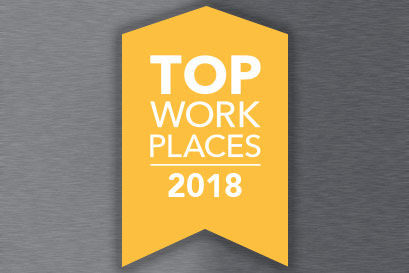 Top Workplaces 2018
Drury Hotels is honored to be recognized as a Top Workplace in 2018 in St. Louis, San Antonio, Atlanta, Colorado and Houston. At the time of the survey, Drury Hotels had 974 team members in St. Louis, 493 team members in San Antonio, 105 team members in Atlanta, 145 team members in Colorado and 133 team members in Houston.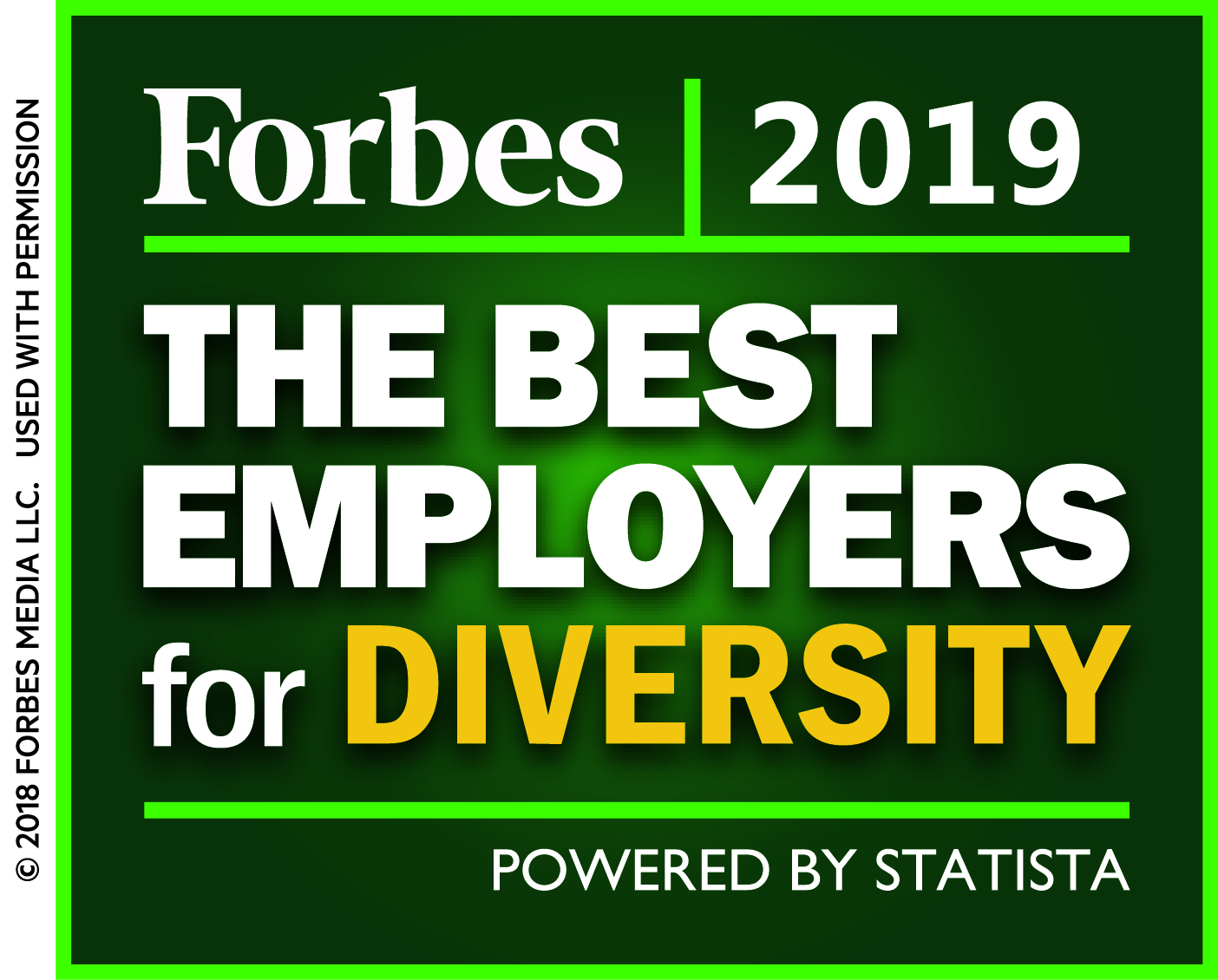 America's Best Employers for Diversity
Drury Hotels is honored to be recognized by Forbes as one of America's Best Employers for Diversity in 2019. The list was compiled by surveying 50,000 Americans working for businesses with at least 1,000 employees.
Our News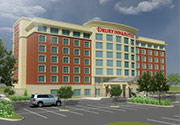 New Drury Hotel in Coralville, Iowa, nears completion
January 11, 2019: The Drury Inn & Suites Iowa City Coralville is nearing completion and will begin welcoming guests in the spring of 2019. The new hotel is the company's first in the Greater Iowa City area and second in the state. More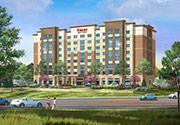 Drury Hotels opens new hotel in Huntsville, Alabama
September 27, 2018: Drury Hotels Company has opened Drury Inn & Suites Huntsville at the Space & Rocket Center. The new hotel features 187 guest rooms and more than 2,180 square feet of flexible meeting and event space. More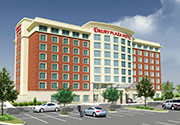 Drury Hotels opens new hotel in Columbia, Missouri
August 8, 2018: Drury Hotels Company has opened Drury Plaza Hotel Columbia East. The new property features 210 guest rooms and more than 3,200 square feet of flexible meeting and event space. More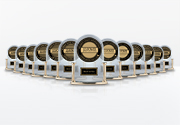 Drury Hotels earns 13th-consecutive J.D. Power Award, sets record
July 24, 2018: Drury Hotels and its 5,000 employees have set a new record in guest satisfaction. J.D. Power ranked Drury Hotels "Highest in Guest Satisfaction Among Upper Midscale Hotel Chains" in its 2018 North America Hotel Guest Satisfaction Index Study. More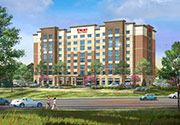 New Drury Hotel in Huntsville, Alabama, nears completion
June 29, 2018: The Drury Inn & Suites Huntsville at the Space & Rocket Center is nearing completion and will begin to welcome guests this summer. The new hotel is the company's first property in Huntsville, Alabama, and fifth in the state. More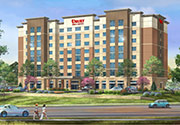 Drury Hotels opens new hotel in Pittsburgh
May 3, 2018: Drury Hotels Company has opened a new Drury Inn & Suites property in Pittsburgh. The Drury Inn & Suites Pittsburgh Airport Settlers Ridge features 187 rooms and more than 1,200 square feet of meeting space. More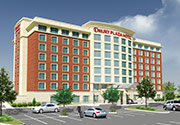 New Drury Hotel in Columbia, Missouri, nears completion
April 10, 2018: The Drury Plaza Hotel Columbia East is nearing completion and will begin to welcome guests beginning July 28. The new hotel is the company's second property in Columbia, Missouri, and 36th in the state. More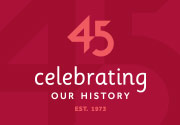 Drury Hotels celebrates 45th year in business with annual meeting in Cape Girardeau, Missouri
April 5, 2018: Drury Hotels Company hosted 350 of their national team members in Cape Girardeau, Missouri, for the company's annual managers' meeting held April 3 - 5, 2018. More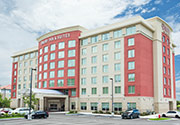 Drury Hotels opens new hotel in Gainesville, Florida
February 1, 2018: Drury Hotels Company has opened a new Drury Inn & Suites property in Gainesville, Florida. The new hotel features 180 rooms and more than 2,800 square feet of flexible meeting space. More
In The News
BRENNAN: Drury Hotels, A Local Success Story Gone National
Outlet: KMOX Date: January 16, 2019
One of the country's great business success stories is the Chesterfield-based Drury Hotels. Drury has won the JD Power North America Hotel Guest Satisfaction Award for "Highest in Guest Satisfaction Among Upper Midscale Hotel Chains" 13 years in a row. More
America's Best Employers For Diversity 2019
Outlet: Forbes Date: January 15, 2019
Drury Hotels recognized as one of America's Best Employers for Diversity 2019. More